High energy costs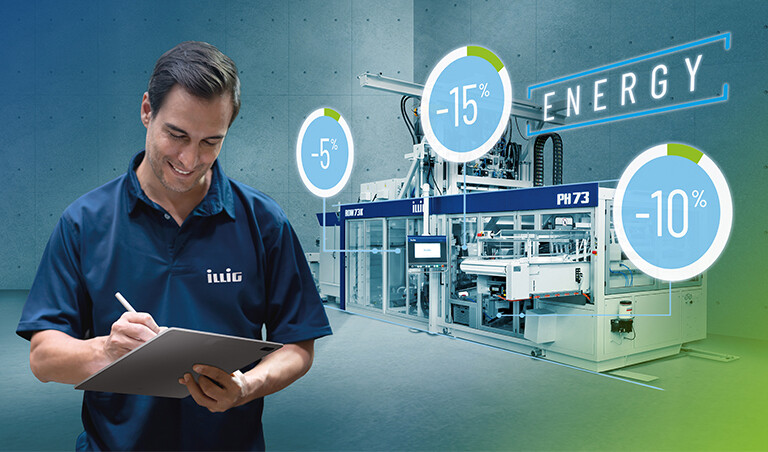 Why energy efficiency in thermoforming is more important now than ever before
Heilbronn, 01.09.2023 – With industrial energy prices high and volatile, environmental regulations are becoming more rigorous. Optimizing the energy efficiency of ILLIG's thermoforming solutions is therefore an important part of the company's product strategy. ILLIG firmly believes it is possible to achieve energy savings of up to 30 per cent per machine.

"Illig has always recognized the importance of technology and sustainability," says Jürgen Lochner, CSO/CTO at ILLIG. "We're convinced that energy-efficient thermoforming machines not only promote the business success of our customers but also reduce the environmental impact from manufacturing. Our efforts to improve energy efficiency reflect our commitment to providing innovative solutions that meet the needs of our customers and the demands of the times."
Industrial electricity is still expensive
At a current average price of 26.50 ct/kWh in Germany, the cost of industrial electricity has halved compared to 2022. Nevertheless, the price level is more than 60 per cent above the average for the 10-year period from 2012 to 2021. This was shown by an analysis of electricity prices issued by the German Association of Energy and Water Industries (BDEW) in July 2023.
The high cost of energy is a major challenge for companies, including those in the plastics packaging sector. Energy-efficient thermoforming machines are becoming a cornerstone of ILLIG's strategy to help customers manage the financial burden.
 
An increase in energy efficiency of up to 30 per cent more is possible
Thermoforming systems require a lot of energy. In sheet processing thermoforming machines, the heating system accounts for the largest share of the energy requirement, typically more than 70 per cent. The remaining 30 per cent is found in the use of electric motors, compressed air generation, and temperature control and cooling units. In the automatic roll-fed thermoforming presses, it is the generation of compressed air and the heating of the semi-finished product that require the most energy. In the case of inline applications, these factors can account for up to 60 per cent of the total energy requirement of a thermoformer.
"The bottom line is that the use of our current thermoforming systems with ILLIG tools can achieve energy savings of up to 30 per cent compared to earlier models," says Jürgen Lochner.
The new generations of ILLIG machines already consume up to 15 per cent less energy than previous models. This has been demonstrated by measurements made during the production of cups on an RDM 73K, for example. By using an appropriate ILLIG thermoforming tool, it is possible to increase energy savings by a further 15 per cent – and in inline applications this figure can even be significantly higher.
More transparency: in future, ILLIG will make energy consumption visible
With the consumption measurement function available from 2024, the power and energy requirements of the ILLIG systems can be determined and displayed on the control panel (HMI). This means that machine operators can determine the actual consumption figures and evaluate the effectiveness of optimizations applied to the production process. In addition to power consumption, users will also receive measurements for energy consumption (kWh) per 1,000 parts and energy consumption per kilogram of part weight in future. The latter figure can be used to make comparisons with the injection moulding process. Thanks to material and weight optimization, thermoforming also reduces the energy requirement per moulded part compared to injection moulding.
ILLIG is at the forefront of a paradigm shift in the thermoforming industry, where energy efficiency and sustainability are the drivers of future success. The company's innovation strength and ability to integrate energy efficiency into thermoforming machine design will pave the way for a sustainable future.
Images:
1. Energy efficiency at ILLIG: up to 30% energy savings are possible
2. HTSs infrared surface heaters reduce the energy demand of the heating system
3. Roll-fed thermoforming system RDM 73K
Download the full press kit and see the primer for more information.

---
About ILLIG
ILLIG is a leading global supplier of thermoforming and packaging systems as well as tool systems for cardboard,
paper and plastics. The company's product and services portfolio includes the development, design, manufacture,
installation and commissioning of complex production lines and components. With its unique approach to packaging
development, "Pactivity® 360", ILLIG supplies its customers with resource-friendly and sustainable solutions.
With its subsidiaries and sales agencies, ILLIG is active in all markets around the world.
More than 75 years, the family business has been serving its customers as a reliable partner for the cost-effective
manufacturing of complex precision packaging and parts with innovative technology of unsurpassed quality
and comprehensive global service.
Further information:
Marketing & Communications
Tel.: +49 7131 505-236
E-Mail: Media@illig.com

Note: Terms marked with ® are registered and protected trademarks of
ILLIG Maschinenbau GmbH & Co. KG. Pictures: ILLIG