Chinaplas 2023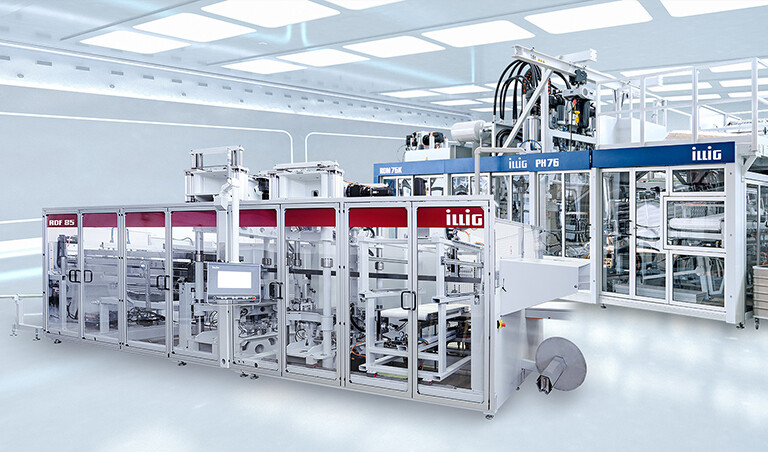 ILLIG to showcase its versatile RDF 85 RedLine thermoforming system for the first time at the Chinaplas 2023
The first live demonstration of the RDF 85 RedLine thermoforming line at the Chinaplas 2023
Designed for flexibility and performance in a modular system
Several machines already in operation since debuting in 2022
Heilbronn, 03/17/2023 – ILLIG Maschinenbau, a global supplier of packaging and thermoforming machines, will be giving live demonstrations of its new RDF 85 RedLine thermoforming line for the first time from April 17 to 24, 2023, at Chinaplas in Shenzhen. With its new versatile thermoforming system, ILLIG has made it possible to use third-party tools, setting new standards in terms of flexibility.
"The RDF 85 is the next logical step in our product strategy. The flexible and modular design of our machines is central to our consistent expansion strategy of the ILLIG product portfolio," explains Jürgen Lochner, CTO/CSO at ILLIG. "We've tailored the RedLine product segment launched in 2022 to meet changing market demands in general and the needs of the Asian market in particular. Machines in this product segment, such as the RDF 85 RedLine, offer an attractive price/performance ratio without compromising on the high quality and safety standards our customers have come to expect from ILLIG," adds Lochner.
The RDF 85 RedLine boasts a number of impressive features, four of which stand out in particular: The modular design allows the material unwinder to be configured either with or without a preheater. Different stacking systems can be integrated downstream from the forming and punching unit. The adaptable and adjustable tool interface enables the use of tools from different suppliers. These innovative features in combination with numerous formed part variants, enables a wide variability of different possible applications. Another highlight of the RDF 85 RedLine is its variable heating length. For customers, this means: higher output performance, and more flexibility of both machines and tools. "Since being launched, the RDF 85 has had a very positive reception from our customers worldwide. Several machine lines are already being used around the globe, and new requests are streaming in, especially from the emerging markets," Lochner concludes.
In addition to the live demonstration, ILLIG will also provide details on its high-performance BlueLine system RDM 76Kb with intelligent automation options, such as stacking systems and end-of-line box packers.
"In Asian markets, too, the demand for sustainable packaging solutions is on the rise. Our expertise will be front and center in Shenzhen as we showcase our packaging and thermoforming systems with numerous examples of sustainable applications made from cardboard, paper, plastic and combinations thereof," says Robert Zhang, Managing Director of ILLIG Haining Co., Ltd., highlighting ILLIG's wide range of products.

ILLIG at Chinaplas 2023 in Shenzhen: Stand 10K01
Photo
The versatile RDF 85 RedLine thermoforming system
---
About ILLIG
ILLIG is a leading global supplier of thermoforming and packaging systems as well as tool systems for cardboard,
paper and plastics. The company's product and services portfolio includes the development, design, manufacture,
installation and commissioning of complex production lines and components. With its unique approach to packaging
development, "Pactivity® 360", ILLIG supplies its customers with resource-friendly and sustainable solutions.
With its subsidiaries and sales agencies, ILLIG is active in all markets around the world.
More than 75 years, the family business has been serving its customers as a reliable partner for the cost-effective
manufacturing of complex precision packaging and parts with innovative technology of unsurpassed quality
and comprehensive global service.
Further information:
Marketing & Communications
Tel.: +49 7131 505-236
E-Mail: Media@illig.com

Note: Terms marked with ® are registered and protected trademarks of
ILLIG Maschinenbau GmbH & Co. KG. Pictures: ILLIG