Interview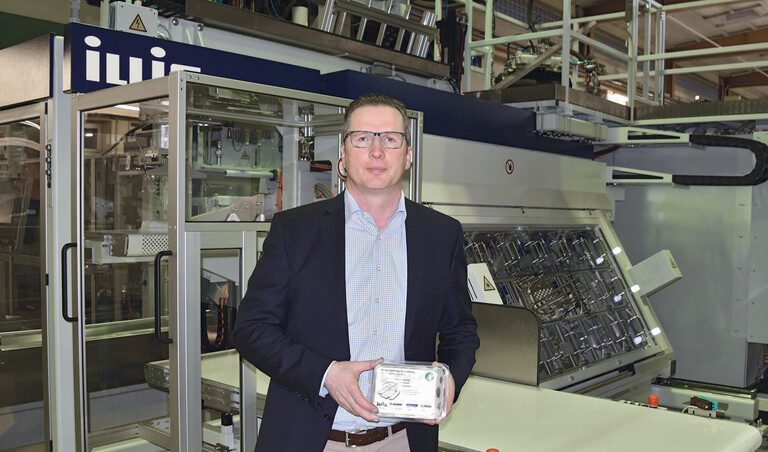 ILLIG realizes sustainable plastic-cardboard combination
For some time now, recyclable plastic-cardboard combinations (PCC) have been supplementing ILLIG's application portfolio. The company's registered trademark: I-PACK® - for ILLIG intelligent packaging. The PCC are technically produced on IML-T® in-mold labeling systems. In just a few months, ILLIG developed, produced and installed an IML-T® mold system for a packaging manufacturer for a completely recyclable, over 50% plastic-reduced PCC tray with mono PP inlay for food products. Sven Engelmann, Head of the ILLIG Technology Center (ITC) and Packaging Development, explains the technical challenges to K-PROFI extra.

K-PROFI extra: Mr. Engelmann, why did you develop a packaging solution as a plastic-cardboard combination?
Sven Engelmann: The development of the intelligent PCC goes back several years and we were ahead of the times with our solutions. The market has always demanded the reduction of material usage for packaging. At that time, however, it was rather driven by cost savings. Since the beginning of the plastics debate, sustainability has been at the forefront. Only the demand driven by consumers and trade for recyclable, sustainable yet safe packaging solutions with even less plastic has given PCC a boost. At that point we were already ready to start with our economical thermoforming solutions. With foresight, we registered the I-PACK® brand as early as 2016.

How did you technically solve the PCC so that they meet the requirements of both recycling and the food industry?
With our IML-T® technology. We have expanded it technically and optimized it for processing cardboard and thicker paper labels. We have also developed safe but easily separable adhesive mechanisms. The packaging is thus dimensionally stable and holds together until disposal. Recycling is then simple and without residues. The packaged goods must be protected according to the specific application and must meet the requirements of the trade. Above all, secure sealing on existing traysealers is a must - and we fulfill this requirement. We presented the first results in 2019 at Fachpack and at the K trade fair. This has made a big impact in the industry.

What was special about developing the MAP packaging for your customer? Which technical hurdle did you have to overcome here?
The biggest challenge for the MAP tray was the process-safe connection of a mono PP inlay, which had been reduced by at least 50 percent in material, with the matching carton blank. The tray had to be well formed and the sealing edge for sealing after filling - with minced meat, for example - had to be flat and large enough. Of course it was also a challenge to connect the PP to the carton in a stable manner and at the same time make it easy to separate. We had already developed and technically established the process for A-PET. For PP it was a challenge because PP has a higher shrinkage behavior than A-PET. This can lead to distortion in the shell. With our know-how, we succeeded in preventing this tendency to warp by means of suitable adhesion mechanisms between the cardboard and the plastic. We were able to implement this on a large scale and with process reliability within a few months.
Source: K-PROFI extra, issue 2020, p. 32

© Kunststoff-Profi Verlag GmbH & Co. KG, Bad Homburg, Germany

---
About ILLIG
ILLIG is a leading global supplier of thermoforming systems and tool systems for thermoplastics and cardboard.
The company's product and services portfolio includes the development, design, manufacture, installation and
commissioning of complex production lines and components. With the unique 360° packaging development,
"Pactivity® 360", and the high-performance packaging systems, ILLIG supplies its customers
with resource-friendly and sustainable solutions, and supports packaging manufacturers in design for recycling.
With its own subsidiaries and sales agencies in over 80 countries, ILLIG is locally present in all markets around
the globe. For 75 years, the family business has been serving its customers across the globe as a reliable partner
for the cost-effective manufacturing of complex precision parts with innovative technology of unsurpassed quality
and comprehensive global service.
Further information:
Georg Sposny, Corporate Communications, Press and Public Relations
ILLIG Maschinenbau GmbH & Co. KG, Robert-Bosch-Straße 10, D-74081 Heilbronn
Phone: +49 7131 505-784
Mail: georg.sposny@illig.com
www.illig.com
Note: Terms marked with ® are registered and protected trademarks of
ILLIG Maschinenbau GmbH & Co. KG. Pictures: ILLIG